Theme: Exploring Advanced treatment and research in Emergency medicine
Emergency Medicine 2020
Conference Series LLC LTD welcomes you to attend the International Conference on Emergency & Acute Care Medicine during September 24-25, 2020 . Focusing on the theme "Exploring Advanced treatment and research in Emergency medicine". We cordially invite all the participants who are interested in sharing their knowledge and research in the area of Emergency Medicine & Acute care.
Conference Series llc Ltd organizes a conference series of 1000+ Global Events inclusive of 1000+ Conferences, 500+ Upcoming and Previous Symposiums and Workshops in USA, Europe & Asia with support from 1000 more scientific societies and publishes 700+ Open access Journals which contains over 50000 eminent personalities, reputed scientists as editorial board members.
International Conference on Emergency Medicine aims to gather doctors, eminent scientists, research scholars, and educationists and professionals to express their views on the latest technologies, trends and concerns in field of emergency medicine. It focuses on addressing the constant effort being made by scientist and scholars to improve the existing and inventing novel technologies for future.
Emergency Medicine focuses on the quick decision making and action necessary to prevent death or any further disability both in the pre-hospital setting by directing emergency medical technicians and in the emergency department. This specialist provides immediate recognition, evaluation, care, stabilization, and disposition of a generally diversified population of adult and pediatric patients in response to acute illness and injury.
Emergency physicians generally don't perform major operations, they work with their hands a lot, performing both simple procedures such as laceration repair or fracture reduction, and complex procedures such as endotracheal intubation, chest tube placement, and obtaining emergency vascular access. Emergency physicians are experts in resuscitation and are trained to respond to any emergency calmly and quickly.
Target Audience
General Internist

Pharmaceutical companies

Research Scholars

Doctors & Physicians

Healthcare Professionals

Directors / Managers

Industrial Professionals

Clinical Researchers

Professors and students from colleges and universities

Business delegates and Intelligence experts

Vice Presidents of Medical institutions and Hospitals
Cardiac diseases are the most dangerous issue that must be dealt with soon to limit morbidity and mortality. One of the main purposes behind individuals looking for mind in an emergency room is cardiac arrest, an interminable condition that can trigger indications, for example, shortness of breath, fluid retention, fast or unpredictable heartbeats etc. cardiac emergencies are dangerous disorders, they ought to be perceived and treated promptly to limit morbidity and mortality. The rates of cardiovascular related deaths are diminishing from the most recent couple of years.
Clinical Pediatric emergency physician provides emergency medicine for the care of children and teens who are acutely ill or injured. An objective diagnosis of a child with an acute disease or injury requires special knowledge and skill. For the critically ill child, determining the primary physiologic problem may be difficult, because inadequate oxygenation, ventilation or perfusion from any cause will eventually progress to the picture of cardiopulmonary failure. A pediatric emergency doctor is prepared to give immediate medical assistance to a wide variety of issues that need quick therapeutic support. Pediatric doctor can approach a pediatric emergency doctor to help if your child has a severe illness or damage or an urgent need for critical support. Childhood trauma is a leading cause of death in infant and children.
Neurological disorders frequently arise and, if not analyzed and treated rapidly, they can have calamitous outcomes; with high rates of long term incapacity also leads to death. Immediate acknowledgment is an essential aptitude. Normal neurologic emergencies incorporate hemorrhagic (dying) strokes, nonhemorrhagic (non-dying) brain strokes, seizures and unconsciousness. Cases of particular treatment for neurologic crises are anti-toxins for meningitis, anticoagulation treatment for non- hemorrhage stroke. The result of this various collection of illnesses relies upon the seriousness and disease nature, its characteristic movement, and reaction to treatment.
Track 4: Respiratory Emergencies
Respiratory emergencies originate from disease in the airways, pulmonary parenchyma, and thoracic vessels. Airway obstruction may be susceptible to bronchoscopic therapies, including laser ablation photodynamic therapy and stent placement. Respiratory emergencies has an important part of acute medicine. Respiratory problems also play a crucial part in critical care medicine and constitute an important share of the numerous problems in an intensive care unit.
Track 5: Emergency and Acute Care Medicine
Emergency medicine isn't characterized by location; however, it might be practiced in an assortment of settings including hospital-based facility, emergency care centers, medical prescription units, emergency vehicles, or by means of telemedicine. Emergency prescription experts give valuable clinical and leadership services to the emergency department. For the care and treatment of acutely ill or injured patients who need immediate medical attention emergency medicine act as a therapeutic claim. The act of emergency medicine incorporates the treatment, underlying assessment, finding, coordination of care among various suppliers. Squeezing thought is right now need of every prosperity organizations giving specialist's offices or research establishment. Prevention incorporates an extensive variety of exercises known as intercessions went for diminishing the dangers to wellbeing, such are Primary, Secondary and Tertiary prevention in which is followed by the scope of mediations that are accessible to wellbeing specialists. Emergency medicinal administrations provide quick care to individuals with intense ailment or damage and are predominantly provided.
Track 6: Orthopedic Emergencies/ Musculoskeletal
The most frequent orthopedic emergency in oncology patients is fracture. Stabilization of the entire fractured bone restores function and relieves pain. The site, quality, and extent of the lesion can identify impending fractures that should be stabilized. Advanced methods of pelvic stabilization effectively bypass periacetabular bone deficiency. Spinal cord decompression is important to maintain neurologic function. New methods in segmental fixation of the spine have improved the outcome over what was achieved by radiation alone. Infection is prevalent in neutropenic patients, and should be treated oppressively with antibiotics and drainage of pustule of the musculoskeletal system
Track 7: Endocrine Emergencies
Endocrine emergencies represent a group of life-threatening conditions that are frequently neglected, resulting in delays in both diagnosis and treatment, factors that further contribute to their already high associated mortality rates. Endocrine disorders are not immediately identified or if specific treatment is delayed,serious complications or even death may occur.
Track 8: Abdominal Emergencies
Abdominal pain is one of the most typical reasons for visit to the emergency room. Most abdominal pain can be categorized into three types – tension, inflammatory, or ischemic. Acute Life-Threatening Abdominal Emergencies Acute appendicitis is the commonest cause. An exact diagnosis is essential for the correct treatment, which in many cases will prevent the death of the patient
The abdominal presentation worst-case scenarios include cholelithiasis or cholecystitis, pancreatitis, peptic ulcer disease, small bowel obstruction, large bowel obstruction, incarcerated hernia, abdominal aortic aneurysm, appendicitis, diverticulitis, and testicular torsion. Some red flag finding include shoulder tip pain accompanied by abdominal pain and acute colicky pain.
Track 9: Gynecologic/Obstetric Emergencies
Gynaecological emergencies are disease conditions of the female reproductive system that threaten the life of the woman, her sexual function and the perpetuation of her fertility. Common gynaecological emergencies present as acute abdomen, abnormal vaginal bleeding, or a combination of both, and are often related to early pregnancy complications, pelvic inflammatory disease (PID) and contraceptive issues.
Track 10: Toxicological Emergencies
Poisoning is the second leading cause of injury-related morbidity and mortality, with more than 2.4 million toxic exposures reported each year. Recently published national consensus guidelines recommend that hospitals providing emergency care routinely stock 24 antidotes for a wide range of toxicities, including toxic-alcohol poisoning, exposure to cyanide and other industrial agents, and intentional or unintentional overdoses of prescription medications (e.g., calcium-channel blockers, β-blockers, digoxin, isoniazid). Pharmacists can help reduce morbidity and mortality due to poisonings and overdoses by (1) recognizing the signs and symptoms of various types of toxic exposure, (2) guiding emergency room staff on the appropriate use of antidotes and supportive therapies, (3) helping to ensure appropriate monitoring of patients for antidote response and adverse effects, and (4) managing the procurement and stocking of antidotes to ensure their timely availability.
Track 11: Emergency Imaging
Emergency radiology, now a recognized subspecialty of diagnostic imaging, has proliferated to meet the demands for immediate interpretation of these images. This combination of around-the-clock access to equipment and expertise has brought cutting-edge, advanced imaging to the front lines of emergency care. In this special feature, we invited a group of emergency radiologists and an expert in cardiovascular imaging to discuss the applicability and utility of several of these techniques in the ED setting.
Track 12: Wound and Burns
Burn wounds and injuries are often devastating. They can have severe long-term consequences for the victims and they continue to be a major problem affecting communities worldwide. The treatment of these patients is often protracted, and large amounts of resources are often needed to achieve the medical and psychological healing that needs to occur. Prevention is the vital factor that will have an impact on decreasing the morbidity and mortality associated with burns. Education and training are vital steps to empower communities to help them protect themselves, and also the most vulnerable of burn victims are children.
Track 13: Trauma and Emergency Care
Trauma and Emergency Care is an open access journal with comprehensive peer review policy and a rapid publication process. TEC is a novel journal that will focus upon injuries, critical care, neurotrauma, abdominal and vascular trauma, paediatric trauma, complex trauma, traumatic stress, scoring systems, prehospital care, resuscitation, traumatic stress, emergency medicine, traumatology, neonatal trauma, traumatic surgery, radiology and shock. TEC will provide a platform in today's scientific and medical literature to serve as an international forum for the healthcare and scientific communities worldwide to translate novel "bench to bedside" science into management of trauma infection care as well as report upon the care of critically ill patients.
Track 14: Psychiatric/Social Emergencies
Psychiatric emergency work as a unique form of crisis intervention is examined. Basic practice principles are identified including common intervention pitfalls that can occur especially with the novice helper. Five of the most prevalent categories of psychiatric emergencies are discussed with illustrations provided via case examples culled from the author's clinical practice.
Track 15: Anesthesia and Pain Management
Anesthesiologists and highly trained anesthesia technicians exists to provide safe, optimal conditions for your pet during every moment of a surgery and to make operative procedures and postoperative care as comfortable as possible for your pet.Every anesthetic or pain management case is considered of major importance. Our team is constantly on guard for changes in respiratory and cardiovascular activity, or unexpected events which, although rare, may occur during surgery.
Track 16: Emergency Medical Service
Emergency Medical Services, more commonly known as EMS, is a system that provides emergency medical care. Once it is activated by an incident that causes serious illness or injury, the focus of EMS is emergency medical care of the patient(s).EMS is most easily recognized when emergency vehicles or helicopters are seen responding to emergency incidents. But EMS is much more than a ride to the hospital. It is a system of coordinated response and emergency medical care, involving multiple people and agencies. A comprehensive EMS system is ready every day for every kind of emergency.
Track 17: Emergency Nursing
Emergency nursing is a specialty within the field of professional nursing focusing on the care of patients who require prompt medical attention to avoid long-term disability or death. In addition to addressing "true emergencies," emergency nurses increasingly care for people who are unwilling or unable to get primary medical care elsewhere and come to emergency departments for help. In fact, only a small percentage of emergency department (ED) patients have emergency conditions such as a stroke, heart attack or major trauma. Emergency nurses also tend to patients with acute alcohol and/or drug intoxication, psychiatric and behavioral problems and those who have been raped.
Track 18: Renal and Genitourinary Emergencies
Patients who experience abdominal trauma, renal and urogenital systems will be involved. In polytrauma patients with other potentially life-threatening injuries, renal and genitourinary trauma may be overlooked initially, but a delayed or missed diagnosis of these injuries may result in preventable complications. This review provides a best-practice approach to the diagnosis and management of renal and genitourinary injuries, with an emphasis on the systematic approach needed to identify subtle injuries and avoid long-term urinary sequelae such as hypertension, incontinence, erectile dysfunction, chronic kidney disease, and nephrectomy.
Track 19: Anaphylaxis
For some people with severe allergies, when they're exposed to something they're allergic to, they may experience a potentially life-threatening reaction called anaphylaxis. As a result, their immune system releases chemicals that flood the body. This can lead to anaphylactic shock.
When your body goes into anaphylactic shock, your blood pressure suddenly drops and your airways narrow, possibly blocking normal breathing. This condition is dangerous. If it isn't treated immediately, it can result in serious complications and even be fatal.
Track 20: Environmental emergencies
Environmental emergency can be defined as a sudden-onset disaster or accident resulting from natural, technological or human-induced factors, or a combination of these, that cause or threaten to cause severe environmental damage as well as harm to human health and/or livelihoods.
This includes secondary consequences from natural hazards such as earthquakes, storms, floods, tsunamis, wildland fires, landslides and/or man-made disasters such as industrial accidents, transport accidents, chemical spills, oil spills and a multitude of other types of emergencies.
Emergency Medical Services (EMS) refers to the immediate response medical services that are available at all times in case of urgent medical emergencies. They are a mobile team that involves all types of medical personnel and are also referred to as ambulance services or paramedic services. They aim to provide on-the-spot medical assistance and treatment and transport facility to the closest available definitive care center. Ambulances are the primary units and can also have cars, boats or aircraft to aid in the transport.
The report on the global emergency medical services market gives an outlook on the current market scenario, the market size, and status. With the increasing number of cases of medical emergencies such as trauma and injuries and accidents, increased spending on healthcare development and high demand for emergency services, the market is set to have a high growth rate in the coming years. The global emergency medical services (EMS) market size stood at US$19,000 million in 2018 and is expected to reach US$32,200 million by the end of 2025, with a CAGR of 6.8% during the forecast period.
The global emergency medical services (EMS) report's key focus is to study the market from the point of the growth opportunities and the key markets in the world. Taking into consideration the key players in the market, the report gives a comprehensive company profile along with the analysis of the companies' developmental plans and growth strategies. The history data taken for the analysis is from 2014 to 2018 and the forecast for the period up to 2025 is done segment-wise and region wise.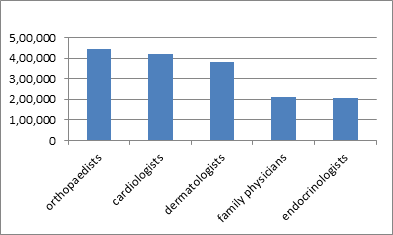 Emergency medical service equipment & ambulance in 2012 was $5.9 billion and reached $6.1 billion in 2013. At a 2.9% compound annual growth rate (CAGR) from 2013 to 2019, this market is expected to rise to $6.8 billion in 2019. Infection control, as a segment, is projected to increase from $2.7 billion in 2013 to $3.6 billion by 2019, with a CAGR of 3.8% for the period of 2013 to 2019. Cardiac and respiratory, as a segment, is projected to increase from $2.0 billion in 2013 to $3.1 billion by 2018, with a CAGR of 2.3% for the period of 2013 to 2019.
Emergency medicine is presently the prime focus of analysis in the medicative analysis. Emergency medicine is additionally known as accident and emergency medicine. Emergency medicine the medical specialty treatment for undifferentiated, unscheduled patients with injuries or illnesses requiring immediate medical attention in the acute phase.
Scopes: Emergency medicine is a field of practice based on the knowledge and skills to diagnose disease and injury affecting patients of all age groups in an acute phase. In most of the trendy emergency departments, a large number of patients are treated by emergency physicians and decide according to their conditions either admitting them to the hospital or releasing them after treatment as necessary. This encompasses a wide scope with no boundaries of organ, system or disease pattern. Emergency medicine shares with family medicine the uniqueness of seeing all patients regardless of age, gender or any specifications.
The main goal of ACEMAC 2019 is to share knowledge and getting ideas from expertise that can help us to provide a healthy life for everyone and to fight with emergency situations.
Global Business & Research Value: Emergency Medicine initiatives target the health of people and populations in emerging and dynamic environments globally. Emergency medicine is a fast-growing subspecialty worldwide. Emergency medicine supports two basic fields: clinical research and health services research. So many countries are already awake to the specialty of emergency medicine and supply special coaching programs to introduce a cadre of physicians with the data and skills to worry for patients with emerging medical issues.
Organizing Committee Members:
Katrina Wendel-Mitoraj, CEO & Founder SOENIA by BrainCare Oy, Finland
Heberto Earl Alcázar Green, The World Academy of Medical Sciences, Mexico
Ahmed Farhoud, Hospital Managing Director Alexandria University, United Arab Emirates
Alejandro De la Parra Solomon, The World Academy of Medical Sciences, Mexico
AnaMaría Teino, Senior Physician Mehiläinen, Finland
Dharmik Vora, Physician Chelsea & Westminster Hospital NHS Foundation Trust, United Kingdom
Keynote Speakers:
Rauni Prittinen King, Miraglo Foundation & Pacific Pearl La Jolla, USA
Katrina Wendel-Mitoraj, SOENIA by BrainCare Oy, Finland
Cathy Rodgers Ward, UCLA Medical Center, USA
To share your views and research, please click here to register for the Conference.
To Collaborate Scientific Professionals around the World
Special Issues
All accepted abstracts will be published in respective Our International Journals.
Abstracts will be provided with Digital Object Identifier by